"I hope that with me in the Development role I can help grow Loaves & Fishes and take it to the next level." Rukhsana Khan, Development Director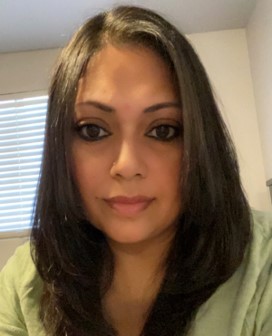 After a long search for the right candidate, we introduce you to our new Development Director, Rukhsana Khan!
Tell us about yourself, and why you chose to join the Loaves & Fishes Team?
I come from a background in nonprofit management. I worked for a foster agency where I had the opportunity to fully develop a marketing department with my team. I really enjoy nonprofit work and the impact it makes in daily lives and this is what brought me to Loaves & Fishes. I really liked learning about all the amazing things that get done here….from creating an oasis for the homeless, educating children, stability for women and most importantly no judging and everyone is allowed to be who they are.
You've been at Loaves & Fishes for less than a week, what has surprised you? Shocked you? What impressions have been made thus far?
Oh gosh! At first I wasn't very shocked, it was an everyday occurrence. I saw many things happen at the foster agency but as we all know when my window got kicked in. Boy! That day was a doozy, but then again things happen and it could've happened anywhere. Such is life.
Where do you find joy?
I find joy in many places. It could be at my mom's house, spending time with my nieces and nephews. It could be sitting at Barnes and Noble. I really feel joy and happiness comes from within and special people and places help elevate that joy.
What work have you been involved in prior to your time at Loaves & Fishes?
I've done a lot of volunteer work. I'm involved with a lot of non-profit organizations and they help me build connections and volunteer. Just recently I volunteered at the Placer Women's Retreat.
What do you hope to bring or amplify at Loaves & Fishes?
I hope to help Loaves & Fishes excel on their mission. I hope that with me in the Development role I can help grow Loaves and Fishes and take it to the next level.
Are there any stories that you want to share?
Hahaha!! Stories about me…not really. You'll learn about me.
Is there anything you want to add about yourself or about how you feel in your new role?
Right now I'm just trying to understand all the facets of the role. The do's and don'ts of Loaves & Fishes. I'm working on developing relationships with the staff. That's really important to me because who knows for the next how many years, you all will be my family and friends.
If someone is new to Sacramento, looking for a way to spend one free day, what do you tell them?
Oh my gosh! My go to is always Old Sac, go to Evageline's costume shop. Enjoy a day at Old Sac. Ricks Dessert Diner, Gunthers Ice Cream (I love cake and ice cream but it does need to be gluten free since I have celiacs), Icing on the cupcake, the state capital building and walk in the garden, the new Arena and depending if it's winter definitely go ice skating! There's so much to Sacramento to discover. It's a pretty amazing city!
Established in 1983, Sacramento Loaves & Fishes is the largest homeless survival services organization in the Sacramento area. The 4.5-acre campus has 16 programs and services, including warm hearty meals, life-saving supplies, hygiene care, mental health counseling, education for children, long-term overnight shelter for women, and offers friendship to nearly 1,000 adults and children each day. In the spirit of hospitality and radical love, Loaves & Fishes is an oasis for guests seeking respite and a space of belonging.
For more information call 916-446-0874.