Below is a list of items and supplies we constantly need and give out regularly to our guests. If you can help by providing any of these goods, please contact us at warehouse@sacloaves.org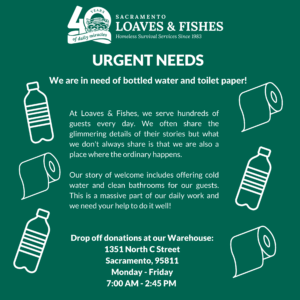 CURRENT NEEDS (Updated June 2023):
We do not accept all types of clothing.
Please reference the list below of what items we are looking for, thanks for understanding.
Travel Size Hygiene Supplies (shampoo, conditioner, lotion, bar soap & toothpaste)
Regular Sized Hygiene Supplies (shampoo, conditioner, lotion & bar soap)
New underwear (Children & Adult)
New or gently used bras (all sizes)
Shoes and boots (Children & Adult)
Women's leggings, sweat or jeans (all sizes)
Men's pants and jeans (all sizes)
Food Safe Latex Gloves (all sizes)
Powder Laundry Soap