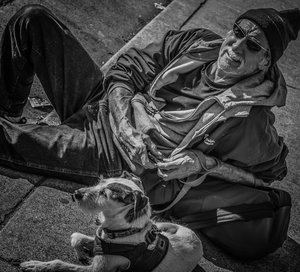 Corey is devoted to his Jack Russell terrier named Jackie.
"She's my baby. I got her a year and a half ago. I kept calling the SPCA to see if they had a Jack Russell Terrier and they called me and said that they had a dog that I might be interested in. I met her and I almost started crying. I lost my other dog to cancer and meeting her was the best thing that has ever happened to me. It's my love and joy to protect her. I would give her all of my clothes just to keep her warm."
Corey has been homeless for a year and a half. His mom was a school teacher and his dad was a pilot. For years, he worked as a nurse.
"I've been coming here for a month and seven days," he said about Loaves & Fishes.
"Sister Libby is the nicest lady in the whole world, she says that in about a month she is going to take some time off and start a bicycle ministry. I'm going to help her."