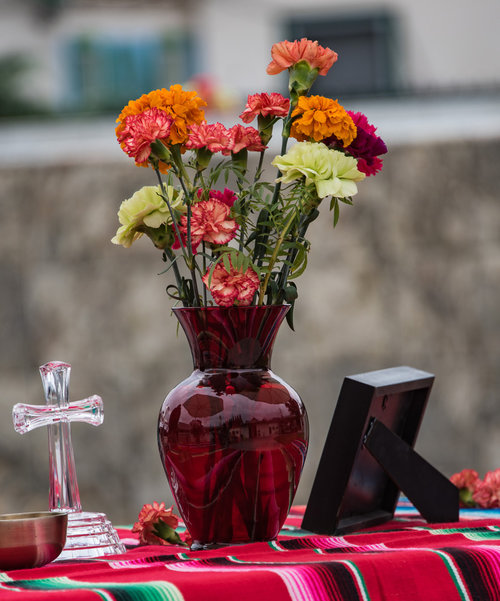 Gale Filter, a volunteer at Loaves & Fishes is an air force veteran and a retired environmental prosecutor and educator. He believes that photography provides a powerful means to speak for those who cannot speak for themselves and that in the eyes of many who experience homelessness, one finds the "homes of silent prayers" to quote Alfred Tennyson.  
November 3, 2017.  I'm at Friendship Park to celebrate Dia de los Muertos.
On Dia de los Muertos, Loaves & Fishes honors the homeless guests who have departed over the past year.  The community recognizes death as a natural part of the human experience.  The departed are a part of the community, present to share the celebration with their loved ones and friends.  At Loaves and Fishes Dia de los Muertos is a day not only of celebration, but also one of reflection, joy and spirituality.
My mind keeps wandering to "Truth" who died in 2017.  I shot these images of Truth at the old Friendship Park in 2016.  Truth loved his music and the day I shot these photos he was strumming his guitar, singing the blues on a warm peaceful day in the park.  As far as I'm concerned Truth was too young to be dead.
So this is a photo tribute to Truth and the homeless who departed in 2017.  Here are some other truths to think about:
In 2016, 79 homeless people died in Sacramento County.  This is a significant increase over the  32 homeless people who died in 2002.  For homeless men, the average age of death is 49.9 years; for women, it is 47.4 years.   That's decades younger than the 78.8-year life span for Americans.
Below are my photos from Dia de los Muertos.  I believe the presence of the departed can be felt in some of these images.