"I hope to make our Dining Room a nice environment for our guests to enjoy their meals." Irma Alvarez-Gutierrez, Program Director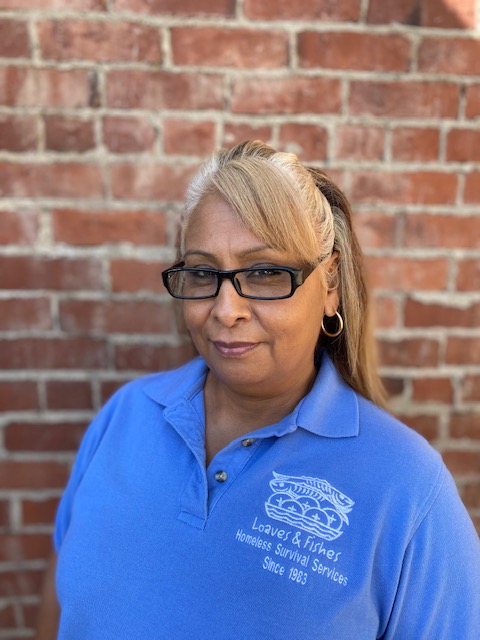 The Dining Room has a new Program Director, Irma Alvarez-Gutierrez! Irma is new to the Dining Room but she has been serving as the Assistant Director of Friendship Park since last year so she is no stranger to our campus community. As we celebrate our 38th year of serving meals to people experiencing homelessness, we highlight the woman leading the program that started it all.
Tell us about yourself, what you did before you joined the Loaves campus community?
I am in individual that truly believes in our mission here at Loaves & Fishes. I have been on this career path for 10 years as I have worked with homeless families in shelters where they were housed and guided to self-sufficiency.
What brought you to Loaves & what keeps you here?
I found myself unemployed and looking for work but not just any work. I wanted to find myself applying for a position in the line of helping others. I was looking to continue to provide guidance to services for those in need. In the years I worked at homeless shelters I was aware of the services at Friendship Park but never had that opportunity to visit the program. As I was looking for work a close friend sent me the link to the position of Friendship Park Assistant Director so I applied! I was lucky to have an interview with the Director who told me he would call me for a second interview if applicable, I couldn't wait for his call so I called him and I think that's what really opened the doors to Loaves & Fishes for me.
What is the one thing you wish people knew about Loaves & Fishes?
It would be more than one thing because when people see a homeless individual they quickly assume that they are bad people and don't know that these individuals need more help than others. I would like people to know that here at Loaves & Fishes we try as a community to provide our guests with an environment of hospitality, safety and cleanliness where our staff is waiting to serve and provide them with services needed.
What is different about your time at Friendship Park vs your time in the Dining Room?
The main difference is the daily interactions that I had with our guests, I don't have as many. So I go out on my walks through the campus to connect with guests.
What do you hope to amplify in your time in the Dining Room?
What I hope to amplify is our mission here at Loaves & Fishes. I hope to be able to make our Dining Room a nice environment for our guests to enjoy their meals.
Are there any stories that you want to share?
A picture of a guest and a child at Loaves & Fishes came to me while I was at my previous job, this picture makes a path to the Dining Room. At my previous job I was given a photo of a guest and his little girl but at the time I didn't have any space in why small office to hang it so I kept it behind the door and it traveled with me. I had no place for it in my home, well, I didn't want a picture of someone I didn't knowing my house so I left it in my garage until I started working at Loaves & Fishes and my significant other said that I'm at Loaves now so I should hang the picture in my office. I hung the picture in my Friendship Park office, I thought the picture was a sign that I would be working here but I never paid much attention to a sign in the background of the photo that says LOAVES & FISHES DINING ROOM! It wasn't until I sat in my new Dining Room Director's Office that I realized this picture was walking me into this new role.
Is there anything you want to add about yourself or about how you feel in your new role?
I am excited and happy I was chosen for this position. I feel that I have so much to offer the guests and staff!
The Loaves & Fishes Dining Room has been in operation since 1983. We serve a warm and nutritious midday meal 364 days a year (excluding Thanksgiving). Over 1,000 volunteers including church groups, company employee groups, services clubs and individuals alike, help serve meals annually. For many of our guests this may be the only meal they receive for the day.
Program Hours: Monday – Friday 11:30 AM – 1 PM & Saturday – Sunday 11 AM – 12:30 PM