Wally's 74th birthday heralds a reunion
On March 21st, 2017, Wally Stoves, a regular at Friendship Park, turned 74 years old. His former coworkers, Andy Smillick and Bob Taylor came to the park to celebrate his birthday with a cake in tow.
Wally has been experiencing homelessness for the past 25 years and this was the first time they connected since he started living on the streets. The three men worked together for the city before Wally had a tragic motorcycle accident that resulted in a brain injury.
Wally was brought to the window of the coffee shack  and Andy and Bob surprised him with cake. The sweet confection went quickly on the rainy day as the old friends reminisced in the coffee shack.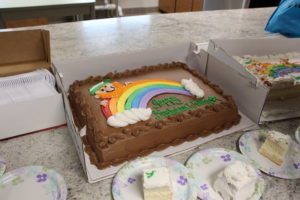 "It's refreshing," Wally said of the surprise. "I like seeing the old friends. We go back to some crazy times."
Wally likes to come to Friendship Park to people watch. The best lesson that he's gleaned from life is learning how take everything one day at time.