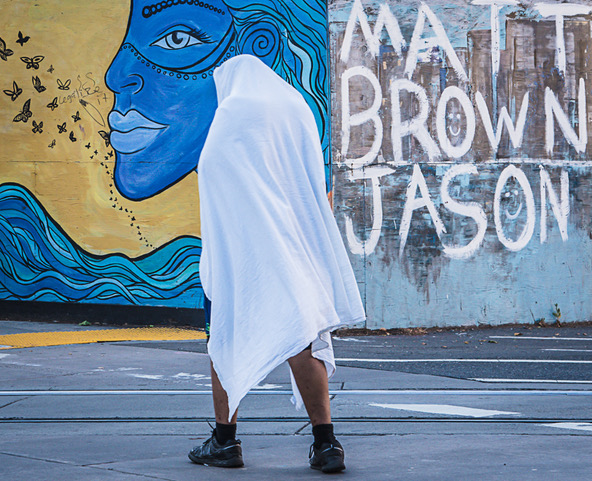 The struggle to find a public bathroom
Each day, guests at Loaves & Fishes must walk miles to access public restroom — and sometimes are forced to surrender to nature's call outdoors.
This daily struggle for the homeless is dehumanizing, and also a public health issue, with tuberculosis, meningitis and diarrheal diseases running rampant.
In 2011, a United Nations expert on safe drinking water and sanitation who visited a homeless encampment along the Sacramento River was outraged by the lack of sanitation facilities, noting, "The criminalization of public urination and defecation combined with a lack of public toilets leaves homeless people in desperate situations without alternatives."
According to U.N. Standards every refugee camp should have one bathroom per twenty people. But, homeless encampments and public spaces are bathroom desserts. In Los Angeles, Skid Row's population rests at just over 1000, but there are only nine restrooms that provide relief to the homeless community.
Sacramento's recent point in time count concluded that there are nearly 4,000 people sleeping outside. But, many argue that the count under-represents Sacramento's homeless population by not taking into account homeless families who often sleep on friends' couches or in hotels rather than under the night sky where the count is held. As well, the count pales in comparison to 13,245 people who are documented as homeless and participate in a CalFresh program which allows them to use their food-assistance at participating restaurants.
Each day, nearly 600 guests rely on the toilets of Loaves & Fishes., which are maintained by staffers.
Key to this success of any restroom is toilet paper, which has been donated in generous abundance by the community over the years.
Loaves & Fishes' annual toilet paper drive this month envisions the donation of 100,000 rolls of toilet paper, which will sustain the campus throughout the year, thus fulfilling our mission to "provide an oasis of welcome, safety, and cleanliness for homeless men, women and children seeking survival services." Too, the rolls will help supply other Sacramento nonprofits.
To learn more about the struggle for public restrooms Check out these articles:
A SNR story profiling Loaves & Fishes guests who struggle each day to find bathrooms:
Joan Burke, Loaves & Fishes' advocacy director, believes the city could save money on repairs to its public toilets by hiring a staff person to oversee the operation and maintain order. Last year, as part of a Bathroom coalition, Burke leaned on Councilman Jeff Harris to provide a public bathroom in the River District, – where much of Sacramento's homeless population lives. The bathrooms featured receptacles for pet waste and used needles, air-conditioning and were staffed by an attendant who helped improve public safety.  But the facilities — planned as a temporary installation — are no longer there.
On Los Angeles' skid row, there are nine bathrooms that service 1,000 people. As a result defecation and urination in the streets increase the risk that people who live along skid row will contract tuberculous, meningitis and diarrheal disease. Public restrooms should be a human right.
Check out this great design for a public bathroom created and piloted in Portland, Ore.